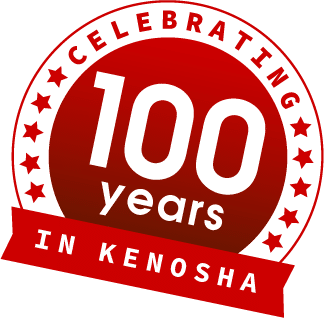 Thank you for 100 years with us at Otto Nelson Moving in Kenosha!
Since 1919, Otto Nelson Moving has served the Kenosha, Midwest, and nation with high quality moving and storage services. Started by Otto Nelson, the company, then Otto Nelson & Sons, has remained a family business and is now owned by Tom Nelson, Otto's grandson, alongside George Follensbee and Jeff Zastoupil.
For 100 years, we have appreciated serving and working within the greater Kenosha area beside our own neighbors. We aim to give our community of Southeastern Wisconsin the highest quality products, the most efficient services, and the greatest outcome for your moving and storage needs.
As Kenosha was the birthplace of our company, we are proud to celebrate this anniversary in our local neighborhood. Otto Nelson's work philosophy, focusing on integrity, hard work and providing our customers with the best experience possible, has been maintained since the very beginning, and we are proud to be able to apply them to our customers.
Kenosha has helped to keep our business at Otto Nelson Moving growing and succeeding. We wouldn't have made it to 100 years in business without our loyal, local customers! As we celebrate our anniversary with you, we hope to be able to serve Kenosha even more fully for many years to come!
Moving Made Easy
Whether you're moving across the street, across the country, or around the world, Otto Nelson Moving and Storage has the experienced staff, equipment, and expertise to make your move as successful and as stress-free as possible.
A respected member of the relocation industry for many years, our thousands of satisfied customers have been our best form of advertising. Looking for movers in Kenosha? We're local!
For moving made easy and done right, don't hesitate…call Otto Nelson today!
Call Today