Moving Senior Citizens is Our Specialty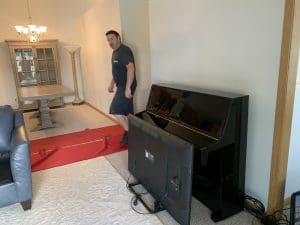 Moving Senior Citizens
Want to know why moving senior citizens is our specialty? We recently moved a retired Kenosha senior citizen couple from a multi-level home they built over 25 years ago, to a single-floor condo that will allow them to age in place. This couple downsized from almost 2,500 square feet to 1,400 square feet. George went to their home to assess their possessions. Per the couple's requests, George wore a mask and maintained social distance.
"Otto Nelson made what would've otherwise been a very stressful transition as seamless as possible. Their level of service was incredible. George was thorough and kind, the office staff was nothing but accommodating and helpful, and the movers were efficient (and fun!). They took excellent care of our most prized possession – our piano. I highly recommend Otto Nelson."

– Homeowner
Because we treat all of our customers like family, moving senior citizens is one of our specialties. We know how vulnerable it can be to transition from a family home to a condo or apartment. And we pride ourselves in going the extra mile.
If you need help figuring out if we're the mover for you, check out one of our website resources: How to Choose a Moving Company.